History
It was in the late 60s in England when Ray took an interest in leather. Being one of the original "rockers," the main attire was of course leather jackets, jeans and boots.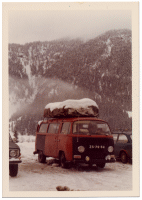 As many young people do, he travelled throughout Europe and it was in Spain where he began leatherwork. It was 3 years before returning to London. After a short stint manufacturing primarily bags, belts and hats for Kensington and Petticoat Lane Markets, it was time to load up the Kombi for the overland trip to Australia.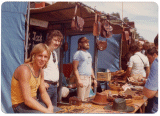 Art and craft markets were popular selling venues. This one (at left) was at the famous Lilac Hill Park wine festival.
The first store was opened in 1973 and traded as Black Jack Leather House, but by the late 80s the name was changed to The Leather Shop. The product range was also increased dramatically, producing anything from small custom pouches to top quality garments.
Items of note have been made for presentation to the British royal family, premiers, pop groups, TV and movie stars and many thousands of customers throughout the world.

From the late 90s until 2011 the Leather Shop became an icon in Barrack St Perth, however, with retirement in mind, Ray and Eve have now closed down the retail store. Ray is still manufacturing leather goods part time and we are happy to answer any email enquiries.